Kumasi Rainbow, Ashanti United, Kumasi Titans, Mighty Atoms, or quite simply Asante Kotoko Sporting Club – Ghana's most successful and of Africa's finest teams ever. The Ghanain giant has been founded 85 years ago, but it wasn't before the late 50's that they established themselves as the strongest club in the country and set down the foundations of their domination in decades to come, winning 24 Ghana premier league titles in the process.
Since then, Kotoko has been able to translate and demonstrate their power in Africa too, as they appeared in five CAF Champions League finals, lifting the trophy on two occasions.
All these successes would, of course, be impossible to achieve without a huge number of amazing talents that wore the Red and white shirt over those years. It is quite a challenge to pick an all-time starting XI of a team that can boast with players who have grabbed so many individual and team awards during their illustrious careers, but it is a challenge that Myfabulousonline.com were willing to embrace.
Due to the chosen 4-4-2 formation, there will be no place in the team for some great wingers such as Yaw Sam, Mohammed Salisu, Garibu Mohammed and Francis Kumi. The aim is, however, to create a functional and balanced team rather than filling it with all the stars that played for the Porcupines.
GOALKEEPER – ROBERT MENSAH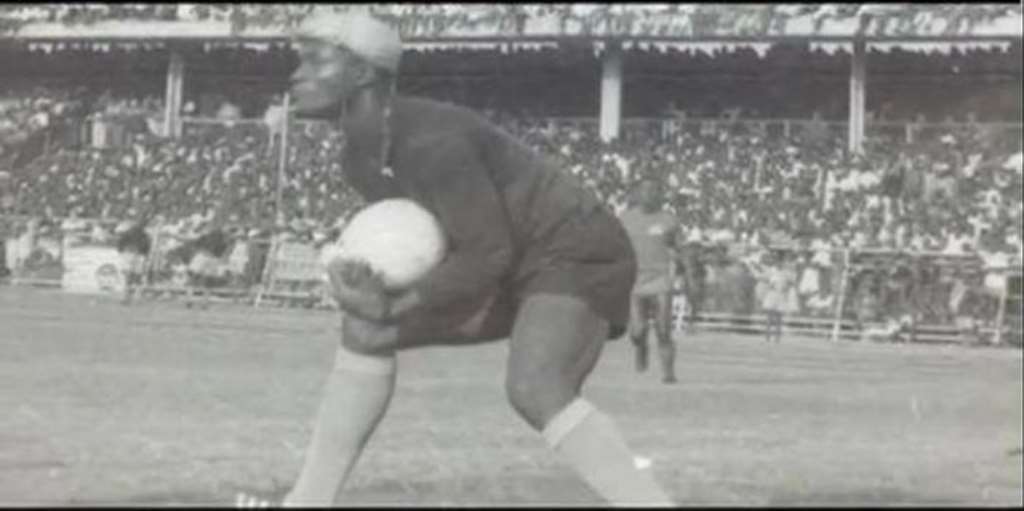 Robert Mensah isn't just Kotoko's greatest ever goalkeeper, but one of the greatest goalkeepers the African continent has ever seen.
He joined Asante Kotoko from Ebusua Dwarfs in 1964 during which he helped the Porcupines win several Ghanaian trophies including three Ghana premier league titles and the club's first-ever Africa Club Champions Cup (now CAF Champions League) in 1970 against TP Englebert now TP Mazembe in Lubumbashi having lost the 1967 finals to the same TP Englebert.
According to those who had the chance to watch him after consultation, Mensah would mock opposition players by reading a newspaper whilst goal-tending. He often wore a cap during football games causing some opposing players to physically remove it from his head believing it was bringing them bad luck through the use of juju. This cap also earned him the nickname "Yashin", in homage to the Russian keeper named Lev Yashin, who also sported a cap during games.
Mensah was the first runner-up during the 1971 France Football African Player of the Year where his teammate Ibrahim Sunday won the ultimate and will die at the end of the year in Tema after a brawl at a local pub, where he was stabbed with a broken bottle. He didn't die on the spot though, he finally had to surrender on November 2, 1971., aged 32.
RIGHT-BACK – DAN OPPONG
Oppong will likely go down in history as one of the greatest full-backs Ghana has produced.
Most of the old players and pundits we consulted admitted that Oppong is the most intelligent right-back they have ever seen in the red and white shirt, and when such praise comes from his teammates and old players and connoisseurs of the game, nobody can doubt the abilities that Dan Oppong possessed.
Not all of his attributes were mental though, as he was capable of attacking and defending in equal measure, with his distribution of the ball, movement and perfectly timed tackles being just a small part of his admirable game.
LEFT-BACK – JAMES KWESI APPIAH
Kwesi Appiah played for Asante Kotoko between 1981 and 1993 from Gold Stars.
He was an important cog of the team that won seven Ghana Premier League titles from the early 80's to the early '90s as well as the SWAG Cups Cup titles between 1988-1993 and the club's last Champions League trophy in 1983 and played in the final of the competition in 1993 against Zamalek before he left the club that year to become an assistant coach.
Kwesi Appiah, popularly called 'Mayele' was a dedicated, hard-working player who was known for his lightning pace and accurate crosses which quite often caused all sorts of trouble to the opposition.
Appiah won 7 league titles with Kotoko and thus, holds the record of most league titles by a player with Edward Agyeman Duah (also on 7 league titles). Appiah won league titles with Kotoko in 1982, 1983, 1986, 1987, 1988/89, 1990/91 and 1991/92.
CENTRE-BACK – ADDAE KYENKYENHENE
In his heydays, Kwadwo Addae Kyenkyenhene was a standout player not as perhaps the tallest man on the field, but also for his commanding presence in the game either as a centre-back or as a defensive midfielder.
Quite possibly the most complete player ever. Kyenkyenhene was a defender, a playmaker and it was not a rare occasion bein deployed as a shield for the defence.
He had one of the longest names in the game (23 alphabets in all) but the onetime Black Stars stalwart and Asante Kotoko captain is remembered fondly for winning the 1978 Africa Cup of Nations with Ghana as well featuring prominently in Kotoko's 1983 African Clubs championship-winning team.
The stalwart defender scored the goal that won Kotoko the 1984 Ghana FA Cup and won several league titles with the Porcupines before leaving.
CENTRE-BACK – DOGO MORO
Now an octogenarian, Moro is the only surviving member of the historic Asante Kotoko side that won the club their first league title in 1958. A man who was beside his defensive artistry lauded for his magnificence when in possession, Dogo Moro became an icon of Asante Kotoko from the late '50s. He is arguably the best 'sweeper' in the annals of Ghana soccer.
He was a penalty kick expert and scored some heavy goals for the Porcupines over the years including three spot-kicks against German outfit Fortuna Dusseldorf in a friendly game in the late '50s at Jackson Park in Kumasi.
He was an instrumental figure of the team that enjoyed great domestic success in the early days of the club's history, winning the 1958 Ghana premier league title as well as 1964, 1965, 1967, 1968, 1969 league titles and won three FA Cup titles in 1958, 1959, 1960.
In the latter stages of his career with the Porcupines, he was mostly used in a libero role in which he excelled before he retired to become the team manager in 1969.
DEFENSIVE MIDFIELD – SUNDAY IBRAHIM
A box-to-box midfielder with a fierce shot, Sunday joined Kotoko in 1966 and won the club's maiden CAF Champions League title as captain in 1970 after taking over from substantive skipper, Osei Kofi who was suspended for the final game. He won four premier league titles before leaving to Werder Bremen in 1975.
Sunday is not just one of Kotoko's best ever but one of the finest footballers of all-time in Ghana and in 1971 – the year he lifted the African Cup of Champions now CAF Champions League with the Porcupines – he also won the African Footballer of the Year award and became the first Kotoko player to win the award.
Ibrahim Sunday returned to Kotoko as a coach, leading the Reds to their second African Cup of Champions (Champions league) victory in 1983.
RIGHT-WING – BABA YARA 
Usmanu Seidu Maada was the real name of a footballer whose performance moniker was "Baba Yara". Asante Kotoko signed him in 1955 and after a few years became the greatest footballer of his generation after scoring more than 20 goals in his first season in the red and white shirt.
In 1958, led by the 21-year-old Baba Yara, Asante Kotoko won the football league which was organized in Ghana a year after the country had gained independence from the British Colonial Rule.
Baba Yara was the most skilful player that Ghana could offer at the time. He was a nightmare for the opposing defences with his direct runs, shots from distance and brilliant movement in the final third. He was all about speed, stamina, dribbling and finishing.
They say he was the greatest of all-time, who never was.
According to records, Baba Yara scored over 90 goals for Kotoko as a winger in his six years stint in Kumasi before he left to join Real Republicans in 1961 and won two league titles with them in which he emerged the most valuable player (MVP).
According to Bright Yeboah Taylor ( B.Y.T), he scored 49 goals in 51 matches for the Black Stars and some of the goals were not even recorded that is why they say he scored over 49 goals.
It is no fluke that the Kumasi Sports Stadium was named after Baba Yara on April 12, 2005, for his exceptional talent and immense contribution to Ghana football with a few years of his short career.
Baba Yara will go down in history as the most deadly No.7 that ever emerged from Asante Kotoko's ranks.
CENTRAL-MIDFIELD – KARIM ABDUL RAZAK
'Golden Boy' Abdul Razak had three separate spells with Asante Kotoko during his play days. He won three Ghana premier league titles with the club in 1981,1986 and 1987 as well as the FA Cup in 1978 and the SWAG Cup in 1988.
He first joined Kotoko in 1975 from Cornerstones and spent four seasons in which he was crowned African Footballer of the Year in 1978 before moving to New York Cosmos in the United States.
He is still the last Asante Kotoko player to win the African best footballer award after it was first won by Ibrahim Sunday in 1971.
Razak then took over the reins to win the club their first league title in ten years in 2003 in the manager's seat.
FORWARD – WILBERFORCE MFUM
Mfum, known for his powerful shots joined Asante Kotoko in the early '60s from Great Ashantis. In his prime, Mfum was a prolific merchant in the business of goals. He scored so consistently that Kotoko bankrollers B.K Edusei and F.Y Frimpong made him one of the first Ghanaian footballers to own a car.
He was part of the Asante Kotoko side that went into the final of the 1967 Africa Cup, where only a misunderstanding after two drawn games against TP Englebert resulted in the Porcupines missing out on the trophy.
Mfum's ability to drop into pockets on the pitch and impose his creativity on the game was second to none.
Wilberforce Mfum leads the all-time highest goal-scoring charts in games involving Asante Kotoko and Hearts of Oak with 12 goals. He was the first player to score a hat trick in the super clash in 1961.
FORWARD – OPOKU AFRIYIE (BAYIE)
He joined Asante Kotoko in 1975 and became an instant hit in the team, combining effectively with Gordon Prempeh and other strikers at the club to torment several outfits.
He led the execution as the Porcupines walloped Hearts of Oak 0-3 in Accra in July 1980 in what remains the worst defeat suffered by the Accra giants at home in the league.
Nicknamed 'Bayie', was the leading marksman at Asante Kotoko, during his heydays. He led the Reds to four league titles 1975, 1980, 1981 and 1982 as well as winning the top scorer awards in the Ghanaian top-flight in 1979 and 1981.
He, in addition, led Kotoko to reach the final of the 1982 Africa Champions Cup (Champions League) but they lost against Al Ahly before leaving the Kumasi-based club that year.
Afriyie won the Africa Cup of Nations twice, 1978 and 1982. However, he is famous for scoring both goals in the final against Uganda in 1978 in Accra, as Ghana won a then historic third title.
His sudden demise occurred in Kumasi after a short illness few months ago.
LEFT-WING – OSEI KOFI
Osei Kofi was the catalyst for Asante Kotoko's glorious run of silverware in the early 60s and will be remembered as one of the most iconic players in the club's history.
He was a ghost for his markers and it was said that opponents were often unaware of his presence on the field until they looked at the scoreboard and saw Osei Kofi's's name plastered all over it.
He was quick, he was skilful, he could score and he was drop-dead gorgeous. Osei Kofi had the lot.
Osei Kofi scored four goals at the Kumasi Sports Stadium against Brazilian side Flamengo after they had drew goalless with Real Republicans in Accra.
It is said that he scored 151 goals in 340 appearances for Asante Kotoko.
Osei Kofi made his Black Stars debut in 1963 against then European champions, Real Madrid.
He was the joint top goalscorer in 1965 Africa Cup of Nations and he was the third-highest scorer in the 1968 Africa Cup of Nations where Ghana clinched the title in the former and finished as runners-up in the latter.
Surely, though, we couldn't have named them all, could we? Well, then, do share with us in the comments section below the names that in your opinion ought to have been in this list. aside the Best XI, or at least merited a mention.
Send your news stories to [email protected]myfabulousonline.com and via WhatsApp on +233546566677